Minniemobil Accessories
Rain cover
(Rain Cover is currently not available.)
Another solution for an old problem was the easy implementation of a rain cover:
Instead of offering an unwieldy, inflexible case we integrated a simple, pushchair-/stroller-like rain cover, which can easily be opened and closed – a smart accessory for regions, where rainy weather occurs from time to time!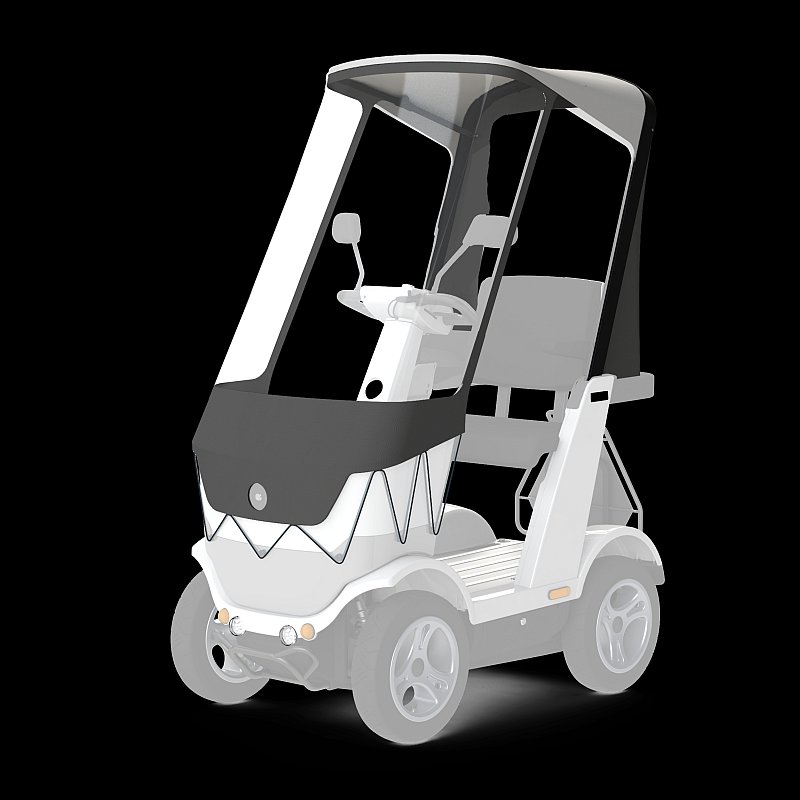 Trunk
We call the front basket a "trunk", because it is the first scooter basket which offers a lockable cover.
In addition light items can be fixed on top of the trunk.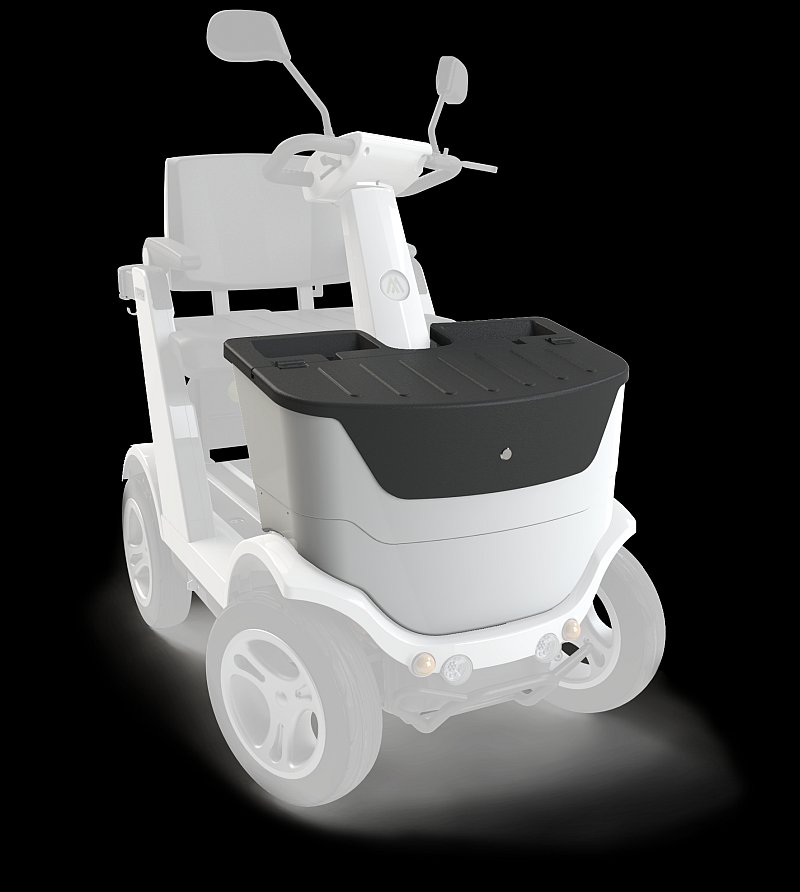 Walking frame holder
Most of the walking frame holders for scooters are placed in a high position, making it extremely difficult to fix your walking frame to the scooter.
We invented an easy slip on extension for the scooter, which is situated between the warning triangle and the loading platform of the scooter.
You needn't lift your walking frame at all! You simply flip the front upwards and roll the rollator on to the platform. This can be done from both sides.
Finally, the walking frame can be fastened with an integrated belt at the back bar. Special sidewalls, which you can adjust in different ways depending on your walking frame type, additionally prevent the walking frame from joggling.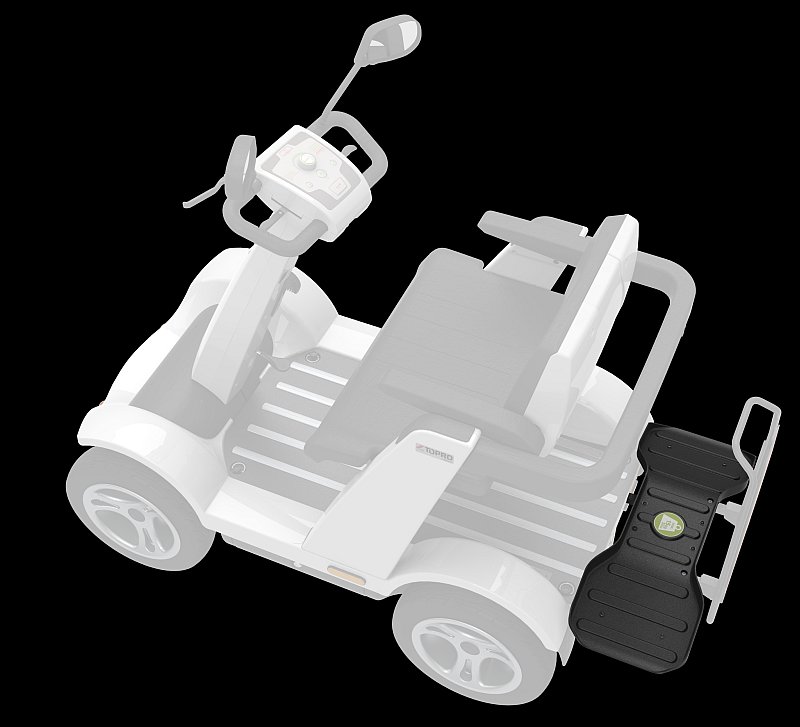 Cargo Net
A simple net prevents load which have stowed in the back loading area, from sliding to the front in case of a sudden braking.
If you want to load longer items in the loading area the net can easily be removed and stowed in one of the drawers.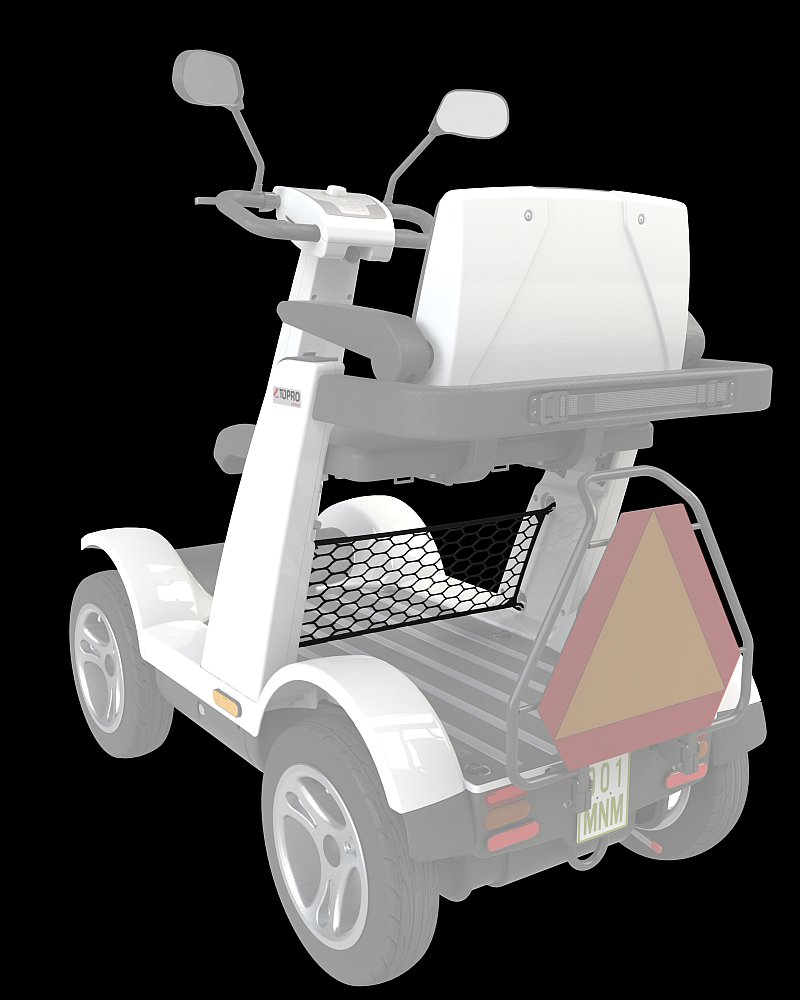 Hook
A simple hook can be added to the back bar. This hook has a variety of functions. On the one hand it is a simple bag hook which allows you to place shopping bags comfortably.
On the other hand you may slip on to the hook different accessories, either a lock, a beverage mount holder or a walking stick holder.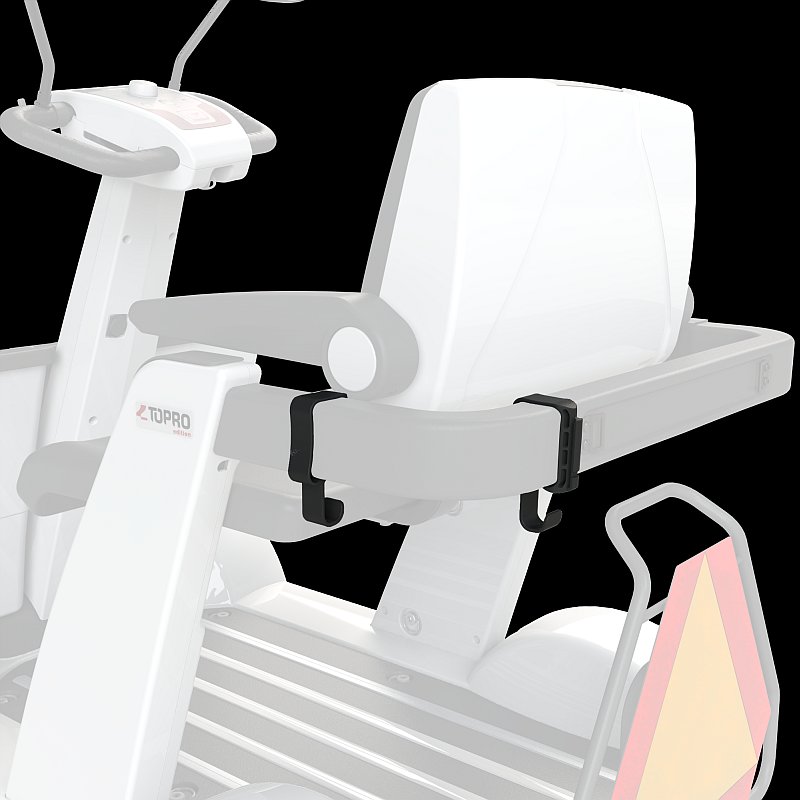 Wall mount
You can either leave the charger in one of the drawers or you can use our wall mount holder for easy charging.
The wall mount charger holder offers a smart cable handling solution plus an extra spot for your plug which you regularly have to handle during charging.
Normally the wall mount should be fixed close to your bus bar, perfectly in your garage.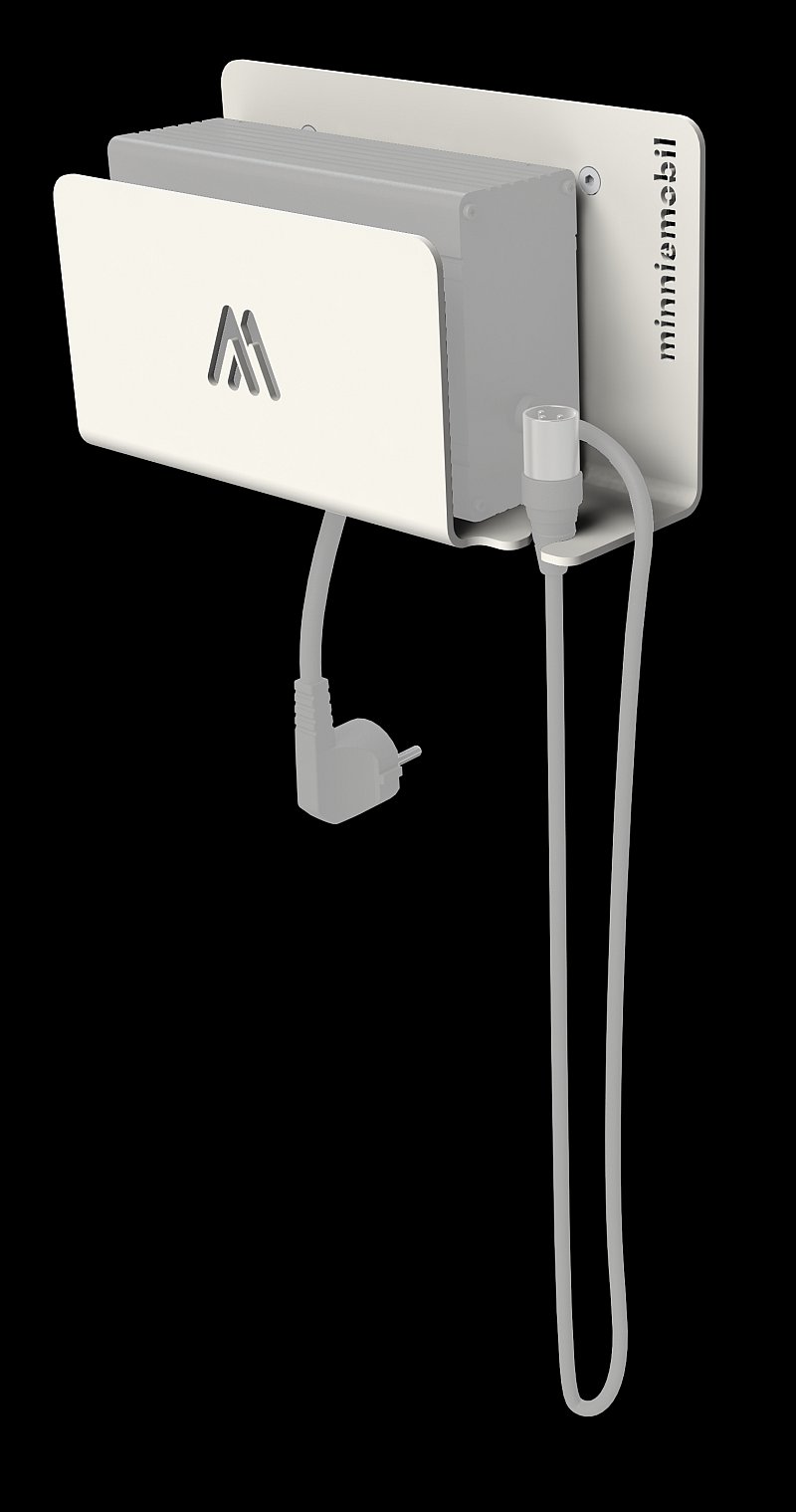 Cushion
For people who prefer softer seats we offer two extra cushion versions, one "soft" and one "extra soft".
If you wish to have another grade of mossiness you may get alternative options at your medical supply store.
Our cushions can be fixed either on the seat or on the backrest.
A little pocket secured by a zipper is integrated in the cushion fabric. Normally it is only being used underneath the seat.
The pocket is fixed by a Velcro, so if you do not want to leave your personal belongings in the pocket you may just pull it off and take it with you.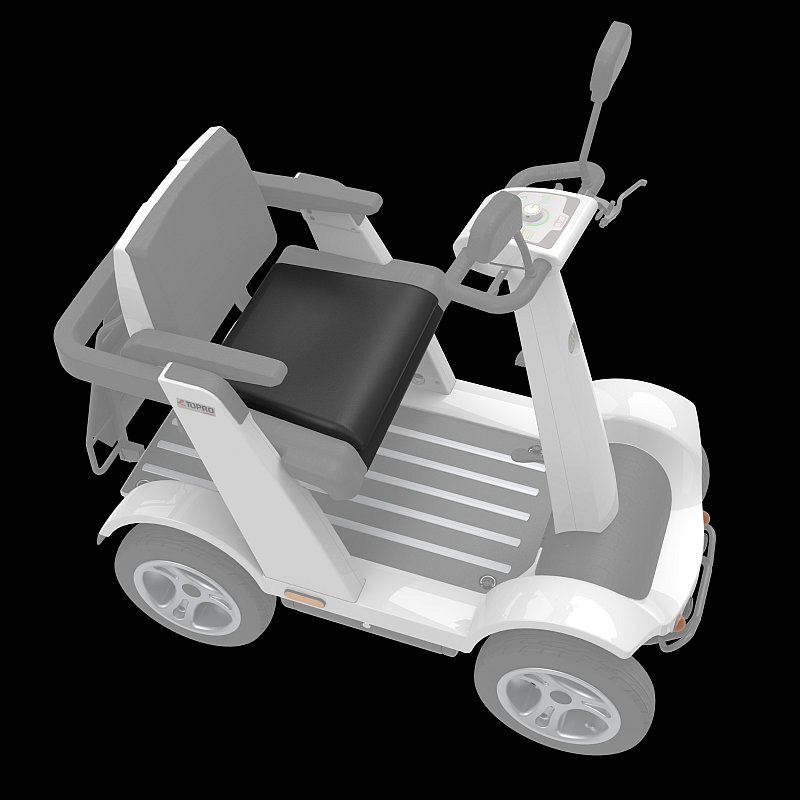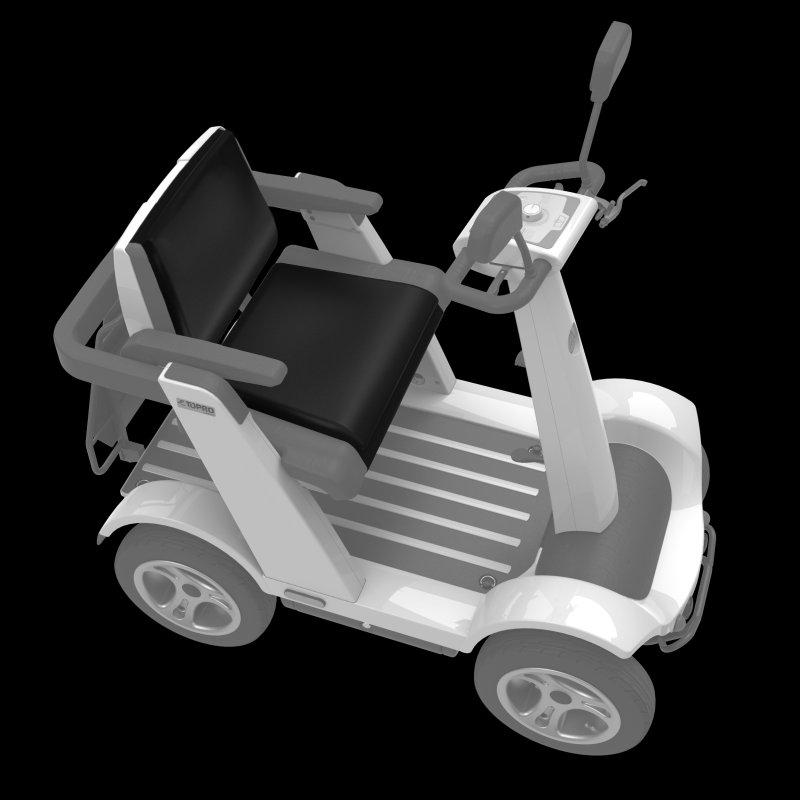 Seat belt
For people with medical handicaps, unsteady movements or those who just feel insecure we offer a safety seat belt which can easily be fixed to the seat bench.
Beside the fact that it is a hip belt it operates the same way as in a regular car.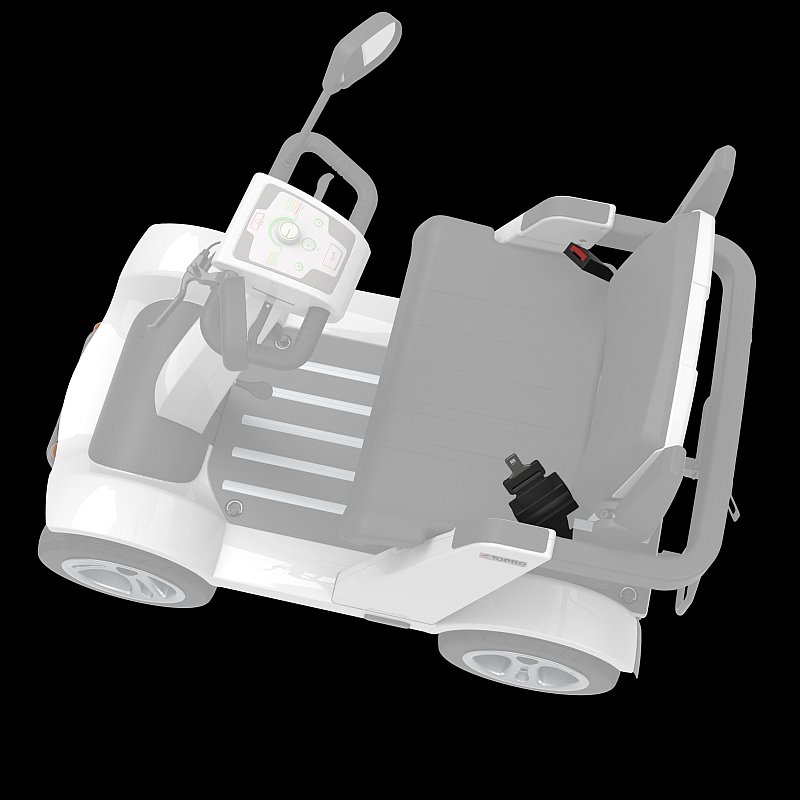 Read about: